Ever wondered how a middle class person double his money by investing in India without risk?
Yes, if hard earned money in invested wisely, it can be doubled. No need to worry!
One traditional investment option is investing safely in India Post office schemes.
The post office saving schemes are evergreen and risk free.
Since the Post office scheme are government owned, they prove helpful to those investors who dont want to take risk and want guaranteed return on their investment.
So, How to Double the money?
If you invest in Kisana Vikasa Patra (KVP) in Post office, your money will be doubled. Yes…doubled !!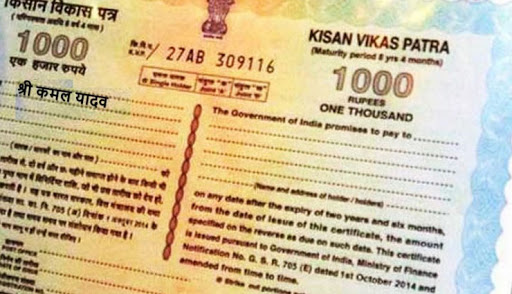 What is the maturity period of Kisana Viakasa Patra (KVP) to double the money?
The investment period of Kisana Vikasa Patra is 12 Years and 4 Months. That is 124 months from the date of investment.
What is the rate of interest for Kisana Vikasa Patra?
With effect from April 1, 2020, rate of interest for Kisana Vikasa Patra is 6.9% per year.
What is the minimum and maximum amount of invest in Kisan Vikasa Patra?
Minimum investment amount is Rs. 1000 and then multiples of Rs.100. KVP are purchased as certificates from Post offices.
There is no maximum limit for investment in KVP.
Who are eligible to invest in Kisan Vikasa Patra?
1.Any single adult can purchase Kisan Vikas Patra certificates or
2. Jointly (maximum 3 adults)
3. Guardian on behalf of minor
4. Any number of accounts can be opened under this KVP scheme
Have small income or less money and want to invest in stock market? Know these 5 tips.
Can Kisan Vikas Patra be pledged?
Yes.
(i) KVP may be pledged or transferred as security, by submitting prescribed application form at concerned Post Office supported with acceptance letter from the pledgee.
(ii) Transfer/pledging can be made to the following authorities.
The President of India/State Governor
RBI/Other Banks
Corporation
Housing Finance institutes
Can Kisan Vikas Patra be closed prematurely?
Yes. KVP may be prematurely closed any time before maturity subject to the following conditions :
-(i) On the death of a single account, or any or all the account holders in a joint account
(ii) On forfeiture by a pledgee being a Gazette officer
(iii) When order by court
(iv) After 2 years and 6 months from the date of deposit
Where can we purchase Kisan Vikasa Patra?
Kisan Vikas Patra can be purchased from any Departmental Post office.
Can we transfer Kisan Vikas Patra?
Yes. Kisan Vikas Patra can be transferred from one person to another person and also from one branch of post office to another branch.
For more details, visit India Post.
Conclusion
So, investing in Kisan Vikas Patra (KVP) is one of the best options to double the money without any risk. You can get your invested money doubled in 12 Years and 4 months.